Tapio Virrantalo, ICT Manager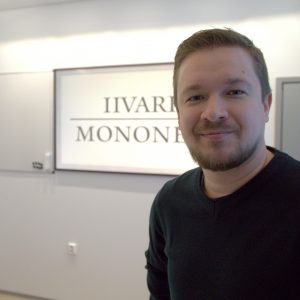 Tapio Virrantalo's passion for information technology began in childhood. "I recently saw the film Dune at the cinema, and before the film began I thought to myself, it was this fantasy world and computer games associated with it that initially drew me to this field," Virrantalo says. "The hours I spent on computer games as a schoolboy are the reason why I became interested in technology."
After his engineering degree, Virrantalo worked for 5–6 years as a system provider in the IT industry. On joining Iivari Mononen Group in spring 2017, his role changed from provider to that of client.
"I was familiar with the company through my previous work history, and I had a good impression of its business culture and ways of working," Virrantalo says.
A broad job description
Tapio Virrantalo's job description in IT is wide: "Sometimes it means taking care of anything that works with electricity, but mainly I focus on providing and developing high-quality IT services together with our IT partners."
Virrantalo is involved in almost all corporate activities that rely on IT: "My area of responsibility is the technology platforms on which all the applications run," he says, and adds that system design and maintenance are part of his daily work.
Iivari Mononen Group comprises three subsidiaries operating in 12 locations. The organisation, which has actively expanded in the past few years, operates a wide range of software: "The compatibility and efficiency of the different systems and avoiding overlaps are what I spend a lot of time and energy on in my work. In addition, I manage all hardware and software purchases," Virrantalo says. "For service provision, which means user support and installation work, we use our trusted partners."
Securing the continuity of operations is the priority for the group IT management. Virrantalo aims to anticipate and prevent technical errors that could disrupt and compromise the continuity of business operations.
"Because of my training, my heart still beats for telecommunications. I'm fascinated by how systems are connected and how secure, high-performance connections between 12 locations can be optimised. This is what really interests me," Virrantalo says.
Going paperless
Mobile technologies have gained a larger and larger role on Virrantalo's palette: "Mobile technologies are currently driving IT service development, and our job is to make the best possible use of them in our business operations in a secure way. Mobile technologies are completely different from the traditional PC world, so introducing them requires a new type of thinking, new tools and continuous learning."
"Going paperless is a big issue that the world has talked about for a long time, but the process is gradual and still requires major efforts and changes," Virrantalo says and adds, "A good way of describing the technological development at Iivari Mononen is that we have covered an impressive amount of ground by taking small but consistent steps," Virrantalo says.
|||
When he is not at work, Tapio Virrantalo's two young children keep him busy and he is also a regular sight on padel courts. The team sport is an excellent way of connecting with people outside of his professional field and Tapio enjoys the social aspect it offers.
Virrantalo is looking forward to a COVID-free future: "I'd love to be able to freely travel the world again with my family as well as for business," he concludes.
Takaisin tiedotteisiin