Business Director Petri Rajasuo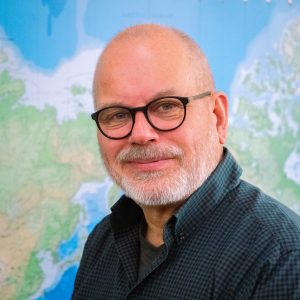 Scanpole Oy's Business Director Petri Rajasuo completed his upper secondary school the hard way: "I was really struggling with languages. I failed both English and Swedish, and had to repeat the year. Practice makes perfect, I improved my grades from four to eight and eventually ended up getting a magna cum laude in both languages in my matriculation exam," says Rajasuo.
After completing general education, Petri Rajasuo applied to a forestry institute, but was not accepted. He spent one year working, and two at Kuopio Business College. After business college he entered the hotel and catering industry, but as he did not feel at home there, he applied to the forestry institute again. After being waitlisted and enquiring persistently, he was finally accepted.
Rajasuo graduated from the forestry institute during the recession in 1992. "It was the only time in my life I was unemployed," he remembers. "A friend told me about a company with activities in Russia who were looking for a forest worker. I marched into their office and said that I could go there."
That was the start of five eventful years in the timber trade in Russia. Rajasuo started off working for small timber companies, and he focused on Saha-Tapio Oy, a sawmill based in Kiihtelysvaara in Eastern Finland since 1993. During his years in Russia, together with the owners of Saha-Tapio Oy Rajasuo founded a timber company that imported logs from Russia for Saha-Tapio Oy. By-products were sold to various forest industry companies.
His career changed when MetsäTimber acquired the sawmill in 1998. With his former partners, Rajasuo founded a company called Ikipuu in Hammaslahti, which manufactured thermally modified timber mainly for export, and he started working with processed wood products.
Abroad with a major international company
Eventually Ikipuu ended up in the ownership of Finnforest (known today as Metsä Group) through an acquisition, and little by little its operations were transferred from Hammaslahti to Kaskinen. Rajasuo's office also moved there at the turn of the millennium.
Work for Finnforest, a major international player, involved foreign travel: "It was quite a change in my life. I drove from Joensuu to the other side of Finland in the early hours of Monday, travelled abroad for a week promoting sales, and came back home late on Friday night."
Those years were educational, but the commute to Ostrobothnia was long and tiring as his family was based in North Karelia.
A job with Iivari Mononen
Petri Rajasuo had learnt about Iivari Mononen back in the 1990s when he was working at a sawmill. He had been involved in the log trade with the Mononens. Arvi Mononen recruited Rajasuo to work for Iivari Mononen at the bar at the Karelia restaurant.
"In early 2003 I went to the Karelia restaurant and noticed Arvi Mononen sitting at the bar. I went to chat with him, and he asked me when I was going to get myself a real job. He told me to come and work for them. I replied that I could start straight away, and Arvi said 'let's start on Monday, then.'" So that Monday I went to Iivari Mononen to agree on the details, and started work at their Joensuu office following my notice period."
Knowing Swedish turned out to be useful after all
Rajasuo's career at Iivari Mononen Group started in the sawn timber department, and continued in sales, production and procurement duties in the pole department. He also spent several years in Germany exploring the Central European market.
After the company acquired the Norwegian company Scanpole in 2011, he found himself travelling around Scandinavia in addition to other European countries.
"Off I went to Sweden to sell poles with my Swedish skills from upper secondary school," says Rajasuo, laughing, and continues to say that it was actually quite easy to improve his skills although he had not used Swedish for decades since school. "I can't call myself a linguist, but I did sell those poles and even conducted negotiations in Swedish. I have learnt more English during my travels abroad over the years."
Today, as business director, Rajasuo deals with the control and management of pole material flows. "We have a pole manufacturing plant in the UK, in Newport in Wales, and I'm in charge of its raw material supply," he describes.
"My other area of responsibility is the sale of poles in Finland and Central Europe. In addition, I coordinate sales of poles to the Middle East and North Africa through a sales office."
The forest makes you relax
To counterbalance his work, Rajasuo goes hunting and fishing. He also practices sport a few times a week to keep fit – and "to help me cope at work," as he puts it himself. Going to the summer cottage and tinkering there provides a flexible break from everyday work.
"Forest, nature and hunting help you recover from work. Also the community around hunting brings different types of social interaction to your life. And for me, the forest is the place where you can relax your shoulders," says Rajasuo, describing his relationship with nature.
—
Business director Petri Rajasuo is a member of Iivari Mononen Group's management group.
Takaisin tiedotteisiin