Roots in Finnish forests grew into a global business
The vast pine forests of eastern Finland and the arid lands of North Africa would appear to have little in common. Few of us know that these pine forests have been securing the flow of electricity in regions such as North Africa for decades. Pine trees grow slowly in the northern climate making the wood especially strong, and suitable for electricity poles. Iivari Mononen, from North Karelia, a remote part of eastern Finland, knew this, and launched the export of sturdy electricity and light poles shortly after the Second World War.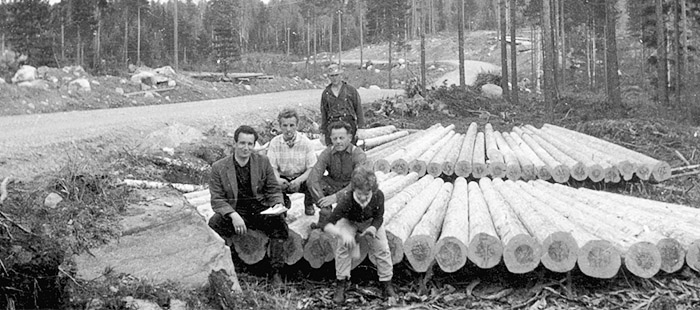 Iivari began his career in saw-milling but soon his activities expanded to the sales of poles. He was hard-working and well known for his trustworthiness among the North Karelian forest owners and customers. Top-quality timber and high business ethics laid the foundation for the company's success and global partnerships for decades to come. "He never let anyone down," vouch many who knew him.
The character and values of the family business have stayed with the growing company over the decades.
Today, the Iivari Mononen Group is led by the third generation of the family. The character and values of the family business have stayed with the growing company over the decades. Fairness and a no-nonsense attitude, combined with a solution-oriented outlook, characterize the daily work. The company, grown from Iivari's modest beginnings, now employs over 200 people in four countries. The timber exports have reached 62 countries over the years.
A lot has changed since Iivari's times. Today the Iivari Mononen Group has four brands: Scanpole, Burt Boulton & Haywood, PrimaTimber and Exsane.
Wood procurement and sales are handled by Scanpole, which has offices, impregnation plants and warehouses in Finland, Sweden, Norway and the UK. Expertly treated poles secure the flow of electricity and telecommunications, especially in remote locations.
The newest addition to the company is Burt Boulton & Haywood Ltd (or BBH) from the United Kingdom, which produces premium quality fencing poles for agricultural and equestrian use.
PrimaTimber's impregnated wood products are an essential part of the Finnish life style. Dining outdoors on a wooden terrace and relaxing in the sun on a dock by the lake are among the highlights of the Finnish summer. Wooden decking would not endure the harsh northern climate without treatment.
Without power and connections our modern society would quickly shut down. That is where Exsane Oy comes in by planning, building and maintaining utility networks. When storms break down connections or a new network is needed in a remote location, Exsane's experts are called in.
The story of Iivari Mononen is a story from the Finnish forests. It is a story known in the Sahara as well as by the Arctic Sea. The story continues as strong as ever.