Annual General Meeting: The Iivari Mononen Group Achieves Satisfactory Results Despite Challenging Circumstances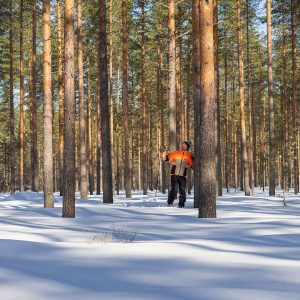 Despite the challenging conditions, 2022 was a reasonable year for the Iivari Mononen Group. The group's revenue was 84.1 million euros, a decrease of 1.7% compared to the previous year. The group employs 211 people in four countries.
"Throughout the year, our company faced strong cost pressures due rising raw material, logistics, and energy prices. However, our pole business showed significant improvement in almost all major markets compared to the previous year, which speaks to our strong market position and customer trust", said CEO Ari Mononen.
To prepare for the end of the use of the traditional wood preservative, creosote, in the European Union, the company has invested in modernizing production facilities and developing next-generation products. Our Pole+ products, treated with copper oil, provide an environmentally friendly and durable alternative to traditionally treated products.
"We remain committed to investing in and modernizing our industry, with the goal of becoming the most profitable and responsible company in our sector. It's important to remember that wood offers undeniable advantages as a material, including sustainability, carbon capture, and meeting consumer expectations," reminds Mononen.
Two new members, Dana Mononen and Ilkka Mononen, were elected to the board of directors of the Iivari Mononen Group. The board members continuing their service are Ari Mononen (Chairman), Arvi Mononen, Aino Mononen, Juha Mononen, Lasse Mononen, and Tommi Mononen.
For interview requests and more information, please contact:
Ari Mononen, CEO
ari.mononen@iivarimononen.fi
Annual Report 2022 (in Finnish):
https://www.iivarimononen.fi/en/company/materials/
The Iivari Mononen Group is a Finnish, family-owned company. We produce treated wood products and build and maintain telecommunication and power networks. The group includes Scanpole Oy, which produces poles and has subsidiaries in Norway, the United Kingdom, and Sweden, PrimaTimber Oy, which specializes in durable wood products and strength-graded timber, and Exsane Oy, which offers solutions and services for power distribution, lighting, and telecommunication networks. The parent company, Iivari Mononen Oy, was founded in 1952 and is managed by the third generation of the family. Our group has over 200 professionals in four countries, and our products have been exported to 70 countries. In 2022, our group's revenue was 84.1 million euros.
Takaisin tiedotteisiin