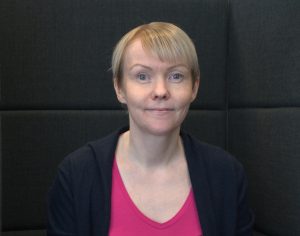 Accountant Hanna Multanen graduated from Joensuu's Niinivaara high school and got accepted straight into Joensuu University to study economics.
"I majored in political economics and minored in accounting. I only took the minimum amount of courses to graduate as fast as possible", tells Multanen who's worked at Iivari Mononen for 16 years. Her career started with a summer job:
"Originally I got the summer job through an interview. After the first summer, I was asked to return for the following year, after which I stayed on as a permanent staff member". Multanen worked her first ten years as a sales assistant, after which she became an accountant.
At her job she looks after the accounting for the Iivari Mononen Group and its subsidiaries in Finland, Sweden and Norway. "I reconcile incoming payments, pay invoices and am in charge of the day-to-day transactions that show on our bank statement. In addition to that I deal with many other accounts-related tasks such as omissions, fixes to inventory values and so on", she describes. Communication happens in English or Finnish.
"The job is meaningful and my colleagues are lovely".
Working independently and together
There are about ten people working in Iivari Mononen Group's financial management. Hanna's key colleagues are the CFO and the financial assistants for Finland and England.
"There are a couple of financial assistants in England whom I work with on accountancy matters – they do part of the day-to-day accountancy and I do the monthly entries".
16 years under the same employer tells about the staff member's, as well as the employer's perseverance. Multanen says she enjoys her work a lot: "The job is meaningful and my colleagues are lovely".
"Weight-lifting is really nice."
Hitting the gym after work
Multanen compensates the time spent in front of the computer screen by going to the gym. She has lifted weights for almost 20 years.
"Weight-lifting is really nice. It keeps one's body and head in shape and it's a good way to reset your brain", says Multanen.
Takaisin tiedotteisiin