Mr. Kaj Källarsson has been appointed as Finance Director of Iivari Mononen Group. Mr. Källarsson is responsible for the Group's financial management and financial reporting. He is also a member of the Group's Management Board. Ari Mononen, Managing Director of Iivari Mononen Group, comments the appointed:
– Kaj has extensive experience of international business and finance management and he will certainly bring new and versatile insights into our work.
Källarsson, 36 years of age, has over 12 years of experience in financing and corporate banking. He has previously worked in management roles in the Nordea Corporate and Investment Banking unit in Helsinki. Kaj Källarsson has studied international business at the Tampere University of Applied Sciences, and financing at the Amsterdam University of Applied Sciences.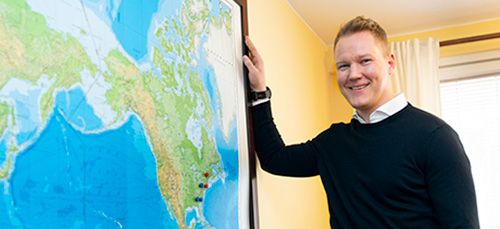 – I am excited about this opportunity to work in industrial business. I have followed Iivari Mononen Group's development and it is great to be part of the ambitious team that leads the company, states Kaj Källarson.
The current Finance Director, Janne Monni, will be responsible for the leadership and development of the ScanPole Group, a subsidiary of the Iivari Mononen group, and he will be based in Norway.
Takaisin tiedotteisiin